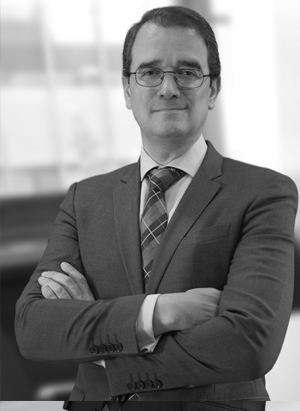 Professional Activity
Lucas Blanque Rey has been Director of the Legal Services of the General Council of Spanish Lawyers since 2010. In addition to his knowledge of the law applicable to professional associations and public law corporations in general, he is also familiar with areas such as the operation of the justice administration, intellectual property regulation, administrative contracts and concessions and the financial liability of public authorities, among other areas.
He is also a correspondent academic of the Royal Academy of Jurisprudence and Legislation and a member of the Administrative Regulation Forum.
Between 2008 and 2010 he was the Director of Legal Services of the Spanish Institute of Chartered Accountants.
He has been a member of the State Bar Association since 2002.
Lucas Blanque has extensive experience in regulatory law, in regulated sectors and in specific areas such as intellectual property, regulated professions and the operation of public authorities. He also specialises in the transposition of European Union law into Spanish law.
He has prepared reports on the modification of the legal regime for intellectual property to adapt it to European law, and about the legal filing of online publications. He has also moderated discussions and given lectures on these subjects.
Education
January 2006 – June 2007: Advanced Studies diploma with the project "The abnormal operation of the Justice Administration", CEU University – San Pablo.
September 1996 – December 2002: State Bar Association entry examinations.
September 1991 – June 1996: Law degree from Madrid's Complutense University.
Publications
2016: "Diccionario del Español Jurídico", Coord. Muñoz Machado, Espasa.
2016: "El depósito legal de las publicaciones en línea (Real Decreto 635/2015, de 10 de julio)" en "El derecho de internet", Coord. Pérez Bes, Atelier.
2015: "Evolución de la regulación de los Colegios" en Historia de la Abogacía Española", Dir. Muñoz Machado, Aranzadi.
Enero 2015: "Oportunidad de la reforma de la propiedad intelectual en España", nº 49 de El Cronista del Estado Social y Democrático de Derecho.
"La responsabilidad patrimonial de los poderes públicos; en particular, el caso del Tribunal de Cuentas", con Rodríguez Villar, B., en "Problemas prácticos y actualidad de Derecho Administrativo", coord. Recuerda Girela, Aranzadi.
"Los límites de la potestad reglamentaria" en "Problemas prácticos y actualidad de Derecho Administrativo", coord. Recuerda Girela, Aranzadi.
2012-2013, 2009-2010, 2008-2009, 2004-2005: Memento de contratos públicos, Ed. Francis Lefebvre,
"Algunas cuestiones relevantes sobre el régimen de los medicamentos en el Derecho de la Unión Europea" en "Procedimiento Administrativo Europeo", Dir. Soriano García, Civitas.
"La lesión del derecho de crédito" en "La morosidad del sector público", coord. Recuerda Girela, Aranzadi.
"Notas sobre la pretendida reforma de la legislación procesal", con García-Trevijano Garnica, J.A., en Diario La Ley nº 7602. Autor: José Antonio García-Trevijano Garnica
2010-2011. Memento de Consumo, Ed. Francis Lefebvre.
"Breves consideraciones sobre la reforma constitucional" con Blanque Avilés, J.M., en "La reforma constitucional. XXVI Jornadas de Estudio de la Abogacía General del Estado", Ministerio de Justicia.