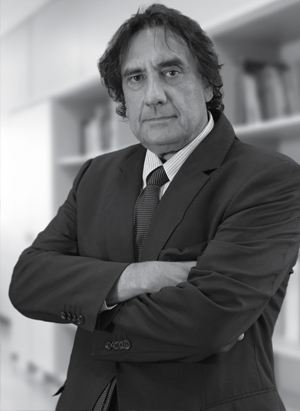 Professional Activity
Ramón has extensive experience and an unblemished reputation in the field of urban planning. Emphasis should be placed on his professional work in court related to local, environmental and urban planning law, as well as urban planning and environmental criminal law, economic law and civil service law. He is an official of the National Body of Local Government Secretaries, currently on a leave of absence.
He has done legal consultancy work in the field of urban planning for the local governments of Collado-Villalba, Aranjuez, Manzanares el Real, Morata de Tajuña, Verturada and Sierra Norte Association of Urban Planning Services.
It is also worth noting his participation as Legal Advisor in the Urban Planning Action Program (PAU) II-6 "Carabanchel", which covered an area of 265 hectares and involved the construction of 12,300 homes.
Throughout his career he has also worked on the drafting and management of the general urban development plans for Manzanares el Real, as well as in the development of the "La Peineta" athletics stadium in the community of Madrid.
Among other activities, he played an active part in defending the interests of property owners in expropriation proceedings carried out to allow the construction of the airport in Ciudad Real.
He has held important positions in the cultural sphere. He has been a governing trustee of the Thyssen-Bornemisza Foundation (2008-2014) and is a member of the Board of Directors of the Institute of Contemporary Art and the Spanish Association of Cultural Heritage Managers (AEGPC). He has also been a member of the Advisory Board of RTVE in the Community of Madrid (1997-2010) and of the Board of Electoral Guarantees of the Higher Sports Council (2007-2015).
As far as teaching is concerned, he is a professor of the "Art Market" subject of the Master's Degree in Contemporary Art Theory and Criticism at UCM's Faculty of Fine Arts, professor of the Master's Degree in Intellectual Property at the Carlos III University and professor of courses on Cultural Heritage Management run by the Higher Centre for Management, Analysis and Evaluation Studies at Madrid's Complutense University.
Education
Law degree from Madrid's Complutense University in 1979.
Publications
He wrote an article for the Museología newsletter in 2004, where he analysed the Law 49/2003, December 23th (Régimen Fiscal de las Entidades sin Fines Lucrativos y de los Incentivos Fiscales al Mecenazgo)
El Régimen Jurídico de las Licencias Urbanísticas Provisionales.- Public Administration National Institute.